HidemyAss in China
Best Use
Remote Access
Unblocking Video Streaming
Unblocking Websites
Clients
Windows, Mac OS X, iPhone, iPad, Android
Connections
2 Simultaneous Connections
Encryption
IPSec, MPPE, CBC mode of Blowfish
Fastest_Download
33.42 Mbps
Logfiles
Connection Logs for 35 days
Money Back
30 Days Money Back Guarantee
Payment Options
PayPal, Credit Card
Protocols
OpenVPN (Windows, Android), IKEv2/IPSec (Mac, iOS)
For years, HideMyAss has been regarded as one of the most trusted VPN service providers in world and for the right reasons. It offers high quality VPN services and it has an excellent worldwide coverage with multiple VPN servers that are strategically located across the globe.
On 2005, Privax Limited established HideMyAss and immediately it gained popularity. Up to this day, HMA is still number one. The company behind HMA is based in UK and is a global leader in VPN and internet privacy tools and services.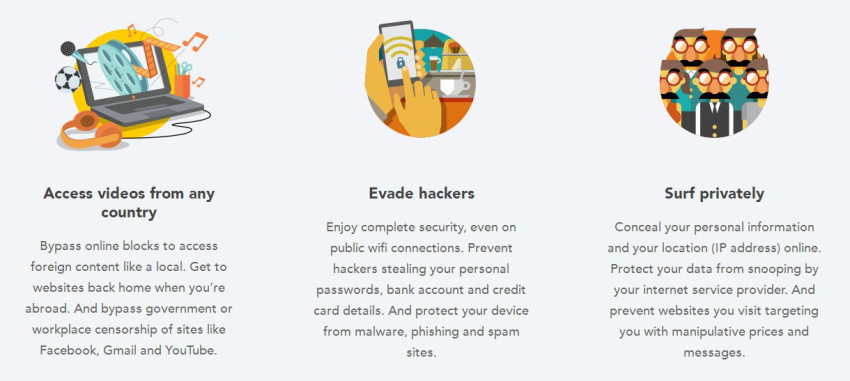 HideMyAss in China
VPNs are the most ideal tools for bypassing the restrictions being imposed by China to the cyberspace. Unfortunately, VPN services like HideMyAss are being blocked in China. For the past few years, the Chinese government had been cracking down on VPNs in a pervasive effort to 'regulate' the information or contents on the internet. By doing so, Chinese netizens no longer have full access of the internet.
If you try accessing HideMyAss from within mainland China, you won't be able to do so since the URL is blocked. Well, not without using a VPN of course. There is a workaround to accessing or using HideMyAss in China and HideMyAss provide alternative URLs to trick the Great Firewall of China from blocking it. In the meantime, if you have trouble accessing HMA in China, you may use this link to purchase a VPN plan.

HideMyAss Compatibility and Usability
HideMyAss VPN is designed to be users friendly. HMA supports multiple operating systems and platforms. You can use HMA on computers, smartphones, gaming consoles, tablets, set-top boxes and even on VPN-enabled routers.
The security protocols that are supported by HMA are as follows: OpenVPN, PPTP and L2TP/IPSec. It is advisable to use the HMA Pro VPN software to get the most out of the VPN service. The HMA dedicated VPN client app that is compatible with Mac, Windows, iOS and Android. HideMyAss uses a 128-256 bit key for encryption.
Among the best features that come with the VPN client is the option to randomly change your IP address at specific times. There is also a feature called the Secure IP Blind that will force applications to not work not unless you are connected to the HMA server. The Speed Guide feature also comes in handy in determining the fastest VPN server/s for your connection.


HideMyAss Cost of Subscription
As far as VPN plans are concerned, HideMyAss offers competitive prices for its full VPN services. HMA used to offer expensive VPN packages and at one point was among the most costly VPN services in the market. But due to competition, the company decided to lower its rates and thus it attracted more customers.
As of this writing, HideMyAss is priced at $11.52 per month, which is basically the same rate as with the other top VPN services. The monthly subscription is dubbed as the Kick-Ass package. There is also a plan called Half-Ass which is a 6-month subscription costing $49.98. You will save 17% when you opt for the 6 months VPN plan. Now, if you have money to spare for a year-long subscription, you can subscribe to HMA's Smart-Ass VPN package that costs $78.60 a year.
All of HideMyAss' VPN plans have a 30-day money back guarantee. And since the VPN company is not offering any trial access, this money back policy can somewhat serve as a way to try out the service.

No more Bitcoin! HMA removed their bitcoin payment support.
If you're still going to purchase a HideMyAss VPN plan, you may use the link we provided earlier to access the website (if you're in China) and to be able to purchase a plan of your choice. HideMyAss accepts various payment methods including via major credit cards and PayPal.
HMA provide instructions on how to pay via the payment option that is more convenient to you. Check out HMA's knowledge base for the payment guideline.
HideMyAss Accessibility in China
HideMyAss has a large VPN network with a total of 940 VPN servers in over 300 different locations in 190 countries. The VPN company also offer at least 120,000 IP addresses to help users stay anonymous online.
From the tests we performed on HideMyAss, we found out that we can still use HMA even when in China. HMA worked well and provided good speeds. Unlimited bandwidth was in fact unlimited, speed was good and usability was great! It really worked as advertised.
At this point, we don't really have any complain about the reliability of HMA in China. It goes to show that even if China is constantly blocking VPNs in the mainland, HMA is still able to do something about it.
Here's a breakdown of HideMyAss' server count in different continents: 410 in North America, 14 in South America, 6 in Central America, 303 in Europe, 52 in Africa, 22 in Oceania and 61 in Asia. It's worth noting that HideMyAss has 3 servers located in China.
HideMyAss Client Interface
The software is easy to use and offers a lot of different setting options. You can choose between the many servers worldwide: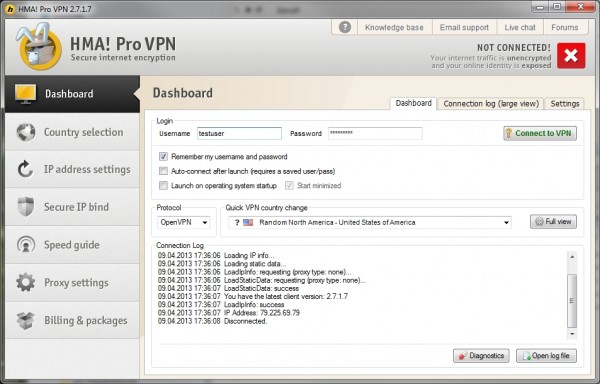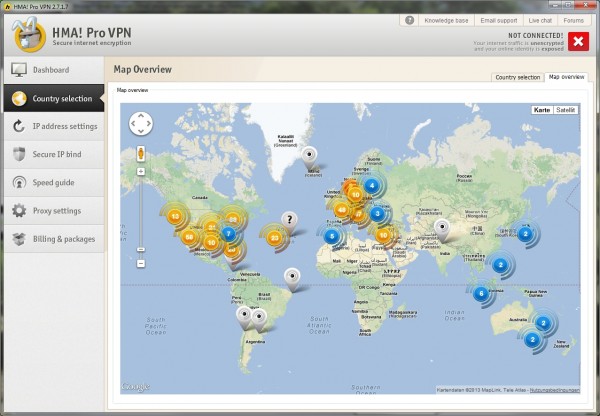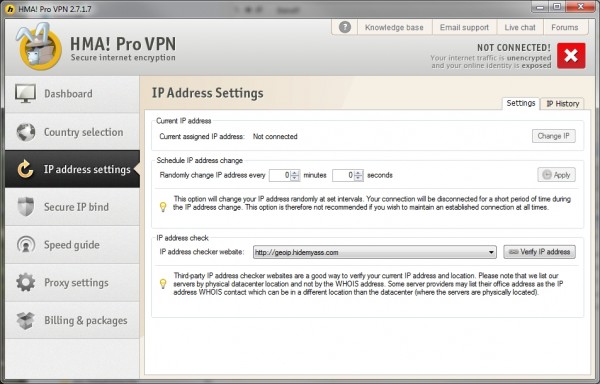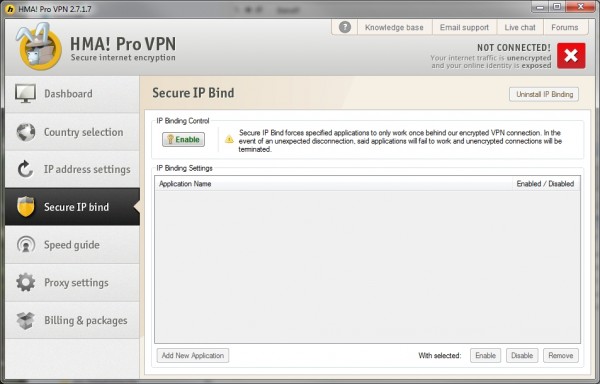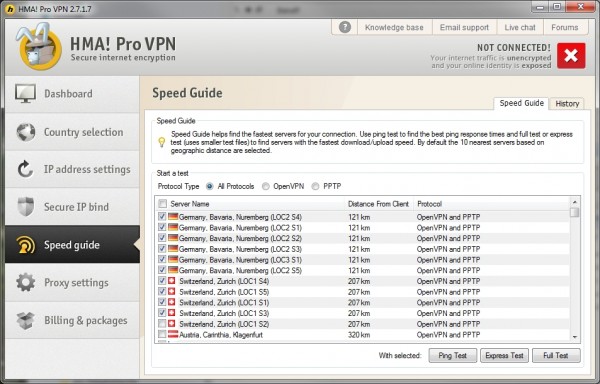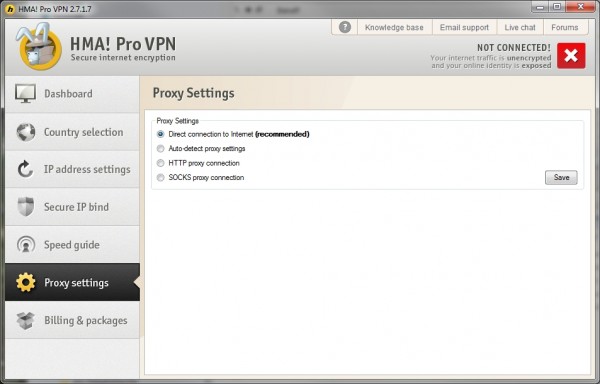 HideMyAss Aftersales Support
As they say, nothing is perfect and aftersales customer service is one aspect that HideMyAss needs to improve on. We tried using the live support and we're simply unsatisfied with it. The waiting / holding time before you can even speak with a customer agent is just nerve-wracking.
Support thru email was disappointing too. It took at least 5 hours before we got a feedback. Good thing there's the Knowledge Base section that answers a few questions. But, we reckon the information available there are also limited.
HideMyAss Review Conclusion: Is HideMyAss reliable to use in China?
Even with our disappointing experience with customer support, we still think that HideMyAss is an amazing VPN service. It does the job of bypassing restrictions well and it worked like charm when we used it in China. Price is also reasonable and the VPN software is easy to use.
We think HideMyAss is still one of the best VPN service providers out there, but they keep logfiles and that sucks big time. But if you are inside China, you wont mind because its very very unlikely that Privax / Hidemyass gives out information to the chinese government. If you are in western countries – thats a whole different thing. If you're looking for a reliable VPN service in China, we recommend you give HideMyAss a kick-ass try.
Go to hidemyass.com