Ivacy in China – Review
Best Use
Anonymous Surfing
Filesharing / Bittorrent
Unblocking Websites
Unblocking Video Streaming
Clients
Mac, Windows, Linux, iOS, Android, Blackberry
Company Location
Singapore
Connections
5 Simultaneous Connections
Logfiles
Only email addresses. No others logs of any information!
Money Back
30 Days Money Back Guarantee
Payment Options
Credit card, PayPal, Alipay, bitpay, Coin Payments, PerfectMoney, Paymentwall
Protocols
TCP, UDP, L2TP, IKEV
Servers
1000+ Servers in 100+ Locations
China is one of the countries with the highest internet restrictions anywhere in world. According to Amnesty International, between 30,000 to 50,000 internet police officials are deployed to ensure strict adherence to governmental restrictions on the internet. These restrictions keep growing everyday with the authorities describing them as a necessary method to eliminate "risks in the ideological fields of the internet."
The People's Republic of China is the world's second biggest economy. It internet censorship policies not only effect the lives of citizens and businesses within the country but also for those outside its borders. Moreover, apart from the government's limitations, cybercrime is also rampant within China. All these factors combined make VPN usage imperative inside the country.
The real question though is which VPN? Which service provides adequate protection as well as freedom to users in a country like China. This review is about a product that has performed exceptionally well on different frontiers eventually coming out amongst the top VPNs because it ticks all the essential feature boxes and goes beyond it for users. We're talking about Ivacy.
About Ivacy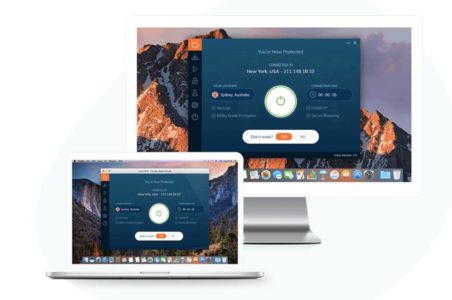 Launched in 2007, Ivacy has become one of the fastest growing VPN services in the market. The company is based in Singapore and according to their website, their vision is to provide "complete online freedom, along with impenetrable security to their users." The results and accolades that they've received until now suggest that they've achieved their goals to a great extent.
Ivacy has been featured on some of the most credible tech review platforms like Mashable, techradar, PCMag and ProPrivacy etc. At the 2019 edition for BestVPN.com's awards show held in Las Vegas, the brand won in three categories including 'Best Speed' and 'Best Overall.' They've also received exceptional ratings from websites like TrustPilot, VPN Ranks, Comparitech and BestVPN etc.
Servers and Coverage
The hallmark of a VPN is how much internet freedom it is able to provide to users. Ivacy has over 1000 servers in 100+ locations. If you do the math, this collectively makes up more than 100,000 IPs. Users can easily unlock and browse content anywhere in the world without having to hit any blockades placed by websites or ISPs.
If you want to confirm any of this information, Ivacy's customer service available through live chat on the website will be happy to confirm that for you. We even went ahead and did it for you in case you need to save time. The large number of servers and IP addresses are not only great to avoid ISP tracking but also for accessing content from within or outside countries like China where internet censorship is taken quite seriously.
Ivacy's multiple protocol support
Many VPNs provide various support for different protocols. Some free services give users to a single options why more advanced ones provide a variety of options. A VPN protocol is a way of protecting your digital privacy. Each one of the them have their own benefits and drawbacks. This is why the choices given by Ivacy come in handy when you want to protect yourself online.
Keeping up to user expectations, Ivacy has support for several protocols including IKEV, L2TP, TCP and UDP etc. Users can pick from their preferred protection type so that the encryption formed against cybercriminals is almost military grade. Ivacy also supports IPv6, the newer internet protocol which is now being widely used. Most VPNs shy away from supporting this version but Ivacy ensures that its users are always covered.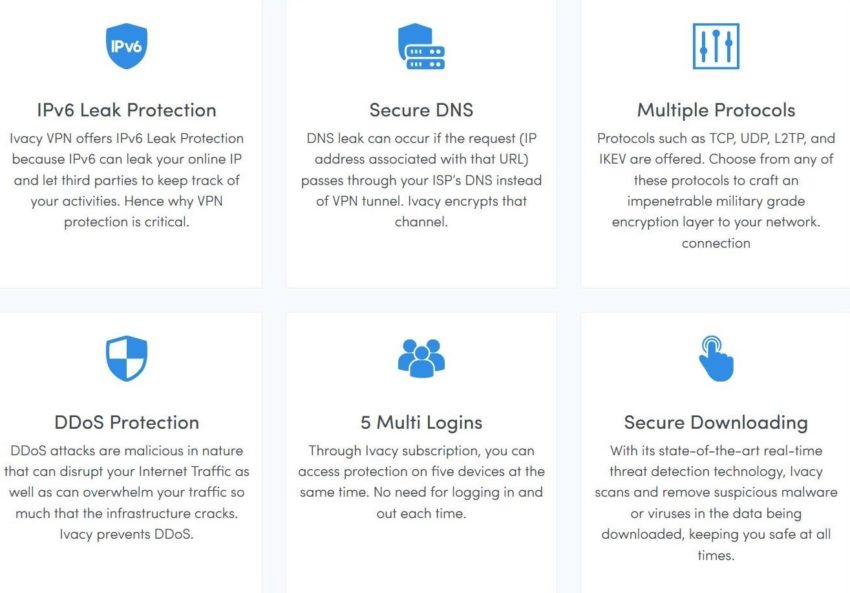 End-to-end encryption
Most data leaks occur during transit. A hacker can easily identify the public IP address of a victim and then start tracking all their internet activity. Not only can they tell which websites you are visiting but also the information that you may be entering on these websites. The easiest way to hide a public IP address is by using a VPN.
Ivacy provides users and their data with 256-bit end-to-end encryption. This is the highest level of encryption available so far with defense industries and government departments using the same protocols. Encrypted data is almost impossible to steal and it works as a deterrent for most hackers who may be after your personal information.
Pricing bundles and discounts
According to our own observations and drawing from what other people are saying, Ivacy is one of the most affordable services on the market. The monthly package starts at about $9.96 a month and although this is lower than that of other competitors, the savings begin when you start exploring long term packages.
As an example, the yearly subscription pack for Ivacy costs only about $3.33 a month and the 2-year bundle drops to as low as $1.99 every month. The payments are charged upfront but the savings are still enormous. Imagine getting a comprehensive cybersecurity package for just $48 and that too for two years straight. This is definitely what we call value for money.
Unfortunately, Ivacy doesn't offer a trial period but every package comes with a 30-day money back guarantee. Be careful though because this money-back period has some limitations to it like data usage etc. Ivacy also runs seasonal and other occasional sales like the recently concluded Halloween discounts. So, if you want further savings, you'll have to keep checking their website on a regular basis.
Easy file sharing
Ivacy provided unrestricted access to the internet for its users. There are no limits on any activity including browsing, downloading and even fire sharing. Though Ivacy's claim is not verifiable but the website states that they were the first to introduce a feature called 'Split tunneling.'
Through the use of this option, you can even choose to send your files over a protected channel or through the conventional route. This may seem unsure about this but it helps a lot when having to reduce server load or avoid detection from hackers or ISPs.
Unlimited bandwidth
One complain that many free VPN users have is the limitations on data usage. After some time, the service places a cap forcing you to pay or abandon the application altogether. This can become quite a hassle especially when you are in the middle of a download or important file transfer. Sadly, this is the catch you get with free VPNs.
Even paid services have speed or bandwidth restrictions at times. Not Ivacy though. With this service you have the ability to continue buffer-free streaming, downloads or internet browsing to your heart's content. Ivacy also helps in defeating ISP throttling where service providers monitor and restrict data flow when they observe users exceeding a certain limit on their connections.
Protection for all your devices
Smartphones are quickly replacing more traditional devices like desktops etc. Companies like Google are acknowledging that most of the queries they receive now come from mobile devices. Furthermore, this is not the only digital transformation we are witnessing these days or should be say that phones are not the only devices that connect to the internet and therefore come under threat of cybercrimes.

This is another area where Ivacy shines. The application has dedicated applications for not just mainstream PC and laptop OS like Mac, Windows and Linux or smartphones like Android and iOS but a lot more besides. Ivacy covers your gaming consoles like Xbox and PlayStation. It can also be downloaded and installed for Wi-Fi routers, smart TVs, Kodi and a range of other devices.
Customer service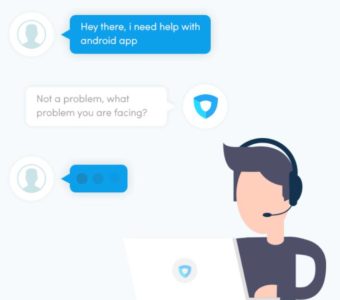 It is a great thing to be able to get in touch with the service provider conveniently when in need. Ivacy provides users with a variety of options to contact a customer service representative. You can submit support tickets, going through the FAQ's on the website, email or live chat.
The agents on the other end are quick to respond and more importantly, they are not just chat bots but actual people who have knowledge of the issues that you may be dealing with. This means that they are quick to resolve your issue. It really is a sigh of relief when that happens.
A commitment to user privacy
Companies make a profit from data management but they also put users at risk because of the same practices. Facebook is a great example. They recently acknowledged a data breach where information on millions of users was stolen. This data eventually ends up online for anyone to use in their own right. Many leading VPN service providers take steps to prevent these instances but Ivacy goes the extra mile with it.
Ivacy commits to a strict zero data logging policy. And this is not just for your browsing history but the only detail about you that they save is your email address. It has been reported that while many VPNs claim to have a strict no-logging policy, hidden clauses in the user license agreement allow for small amounts of data besides browsing history to be stored. Ivacy has no such laws concealed within the agreement that most of us ignore.
Payment options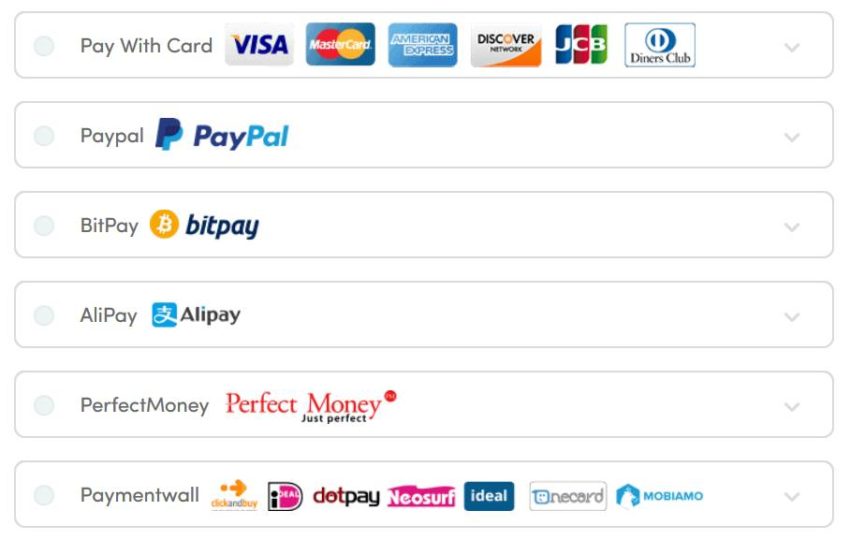 Well once again you are spoilt for choice by Ivacy's payment options. If you want to know the extent of alternatives available just refer to this picture. There is every possible payment method on the list, even cryptocurrencies.
All the payment methods are extremely secure with users reviewing these regularly. If you are unsure, you can always get help from the various customer support platforms available.
User reviews and comments themselves available on various websites offer enormous help with this too. We tried a few of these options and found them to be 100% operational. This makes it so much easy to pay in this digital age.
Experience internet freedom like never before
Internet censorship is a reality in almost every country. Some do it quite heavily while others are relatively lenient. Ivacy is available in almost 55 countries today with the number of servers expanding each year. The countries are spread across all the regions of the world and not just North America or Europe.
This is unlike other VPNs in the market thus making Ivacy a good choice for use in countries like China. Both inside and outside the country you can enjoy unrestricted internet access for all kinds of websites.
Multi-logins
One feature that we absolutely love is that in a precarious time where cybercrime is prevalent and causing trillions of dollars' worth of damages each year, Ivacy allows you to protect all available devices with a single account. One subscription provides coverage to five devices simultaneously which is enough for an individual and even for a complete household at times.
Safeguards against cybercrimes
Ivacy's vast list of features doesn't just end here. It is a VPN that covers every aspect of protection as well as entertainment. Many of us have been internet users for a long time and there was a time when a VPN was just considered useful when unblocking geographically restricted websites. With the rampant rise of cybercrime, this has changed completely.
Now it is evident what the real use of a VPN is. It provides an almost unbreachable barricade around us to prevent financial and emotional stress due to sensitive data loss. Ivacy comes equipped with sophisticated protocols to provide public wi-fi security, DDoS protection, Secure DNS and an internet kill switch will cuts the network connection completely in case the VPN stops functioning in the background.
This feature can come in handy when you are using a public connection because the slightest loophole can leak your identity to a potential hacker. The end results of this are devastating.

Conclusion
When shopping for a VPN, you will have countless choices but the only criteria that matters here is credibility. We used Ivacy extensively and much like other reviewers, we can give it a positive overall score across all departments. Of course, it has shortcomings like lack of support for the TOR browser and no trial period, but all those pale into insignificance when compared to other options and features that it does offer.
To learn more or get a subscription for yourself, visit Ivacy's website today.
Q: Where is your company incorporated in?
Ivacy was founded in 2007 with its headquarters in Singapore.
Q: How many Servers do you have?
Ivacy has 1000+ servers in 100+ locations around the world.
Q: How many IPs do you provide?
100,000 distinct IP addresses
Q: Which protocols do you support?
TCP, UDP, L2TP and IKEV
Q: Which encryption method do you use?
256-bit
Q: Do you have a trial version?
No
Q: Do you have special offers our coupons which we could promote?
Ivacy regularly comes up with discount promos. The Halloween special and an exclusive 5 year plan are two of the most recent offers by the brand.
Q: Do you have a money back guarantee?
Yes, 30 day money back guarantee
Q: Is file sharing allowed?
Yes
Q: Do you have a traffic limit?
No limit of any kind
Q: For which operating systems do you provide own clients?
Mac, Windows, Linux, iOS, Android, Blackberry
Q: Are reconnects limited?
No
Q: Which types of support do you offer?
Email, support tickets, live chat
Q: Do you keep log files? If yes, which?
Only email addresses. No others logs of any information
Q: Which payment options do you offer?
Credit card, PayPal, Alipay, bitpay, Coin Payments, PerfectMoney, Paymentwall
Q: How many countries do you support?
55 countries
Q: How many connections can be made at the same time with one subscription?
5 simultaneous logins allowed
Go to ivacy.com