NordVPN in China – Review
Best Use
Anonymous Surfing
Filesharing / Bittorrent
Remote Access
Unblocking Video Streaming
Unblocking Websites
Clients
Windows, Mac, Linux, Android, iOS
Connections
6 Simultaneous Connections
Encryption
AES-256-CBC, 2048-bit
Money Back
30 Days Money Back Guarantee
Payment Options
Credit Card, Paypal, Bitcoin
Protocols
PPTP, L2TP / IPSec
NordVPN penetrates the Great Firewall of China
The Great Wall of China was built two thousand years ago to keep the northern barbarians out. Silicon has since replaced brick and mortar in the construction of the Great Firewall of China. The Great Firewall is a tool of the Chinese government in online surveillance and censorship. It is capable of monitoring and filtering all network traffic within China and between China and the world. IM messages, emails, and website contents are specifically targeted. The Great Firewall can log Chinese users' Internet activities, and block access to specific websites.

Internet users in China can turn to Virtual Private Network (VPN) services for privacy protection and access to blocked web contents. Expatriates living in China should definitely investigate this technology for communication within China and between China and their home country. In this article, we will review NordVPN, a VPN service provider, on how well it can penetrate the Great Firewall of China.
Network infrastructure
When you connect a device to the VPN, a secure tunnel is created between the device and a pre-selected VPN server. All Internet traffic transmitted in the tunnel is encrypted and therefore protected from the prying eyes of government spy agencies.
NordVPN operates a network of more than 3000 VPN servers spanning 61 countries, but none in China. It is not unusual that a VPN vendor does not have a server presence in China. The implication, however, is that you need to connect instead to a VPN server in an adjacent country or region that is closest to you. As a result, you will incur a speed penalty because the Internet traffic has to travel further.
NordVPN servers are available in neighboring Hong Kong, Taiwan, Vietnam, South Korea, India, and Russia. A total of only 20 NordVPN servers are deployed in those countries. The relatively small deployment indicates the low level of importance that NordVPN places on the Chinese market.

NordVPN offers a rather unique security feature named Double VPN. With Double VPN, you select 2 VPN servers to connect in sequence. Not all NordVPN servers support this feature. Internet users in China can select the Taiwan-Hong Kong server combination. Traffic is first re-routed to the Taiwan server and then to the Hong Kong server before continuing to the intended destination.
Double VPN yields double protection because the data is encrypted twice, one by each VPN server. Encryption is a CPU-intensive task, and doubling the encryption will double the speed performance hit on your transmission. The fact that both Taiwan and Hong Kong are located outside mainland China exacerbates the speed degradation problem.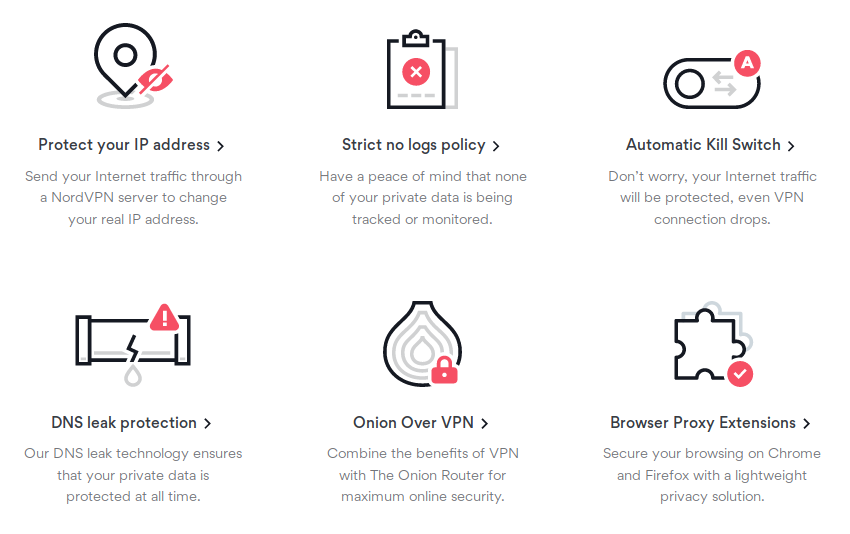 Tor over VPN is another innovative security feature offered by NordVPN. Tor is a popular free and open-sourced tool for anonymity and privacy protection. With Tor over VPN, when you connect to a NordVPN server that supports the feature, your Internet traffic is relayed automatically from that server to an entry server in the Tor network. The data is then rerouted via at least 2 more hops in the Tor network before exiting to the final destination. At each hop in the Tor network, your Internet data is encrypted to provide an extra layer of protection. All in all, your Internet traffic is encrypted at least 4 times, once by NordVPN and thrice by Tor. The extra security, however, comes with a heavy cost in the form of a severe speed penalty.
Only NordVPN servers in Latvia and Sweden support Tor over VPN. Subscribers in China can connect to either server to take advantage of the feature. However, because the VPN servers are in Europe, you will experience a significant degradation of speed performance.
VPN client access
NordVPN provides VPN client apps that you can run on your Windows, macOS, iOS, and Android devices. Running the client app will automatically set up and open a connection to the VPN. NordVPN subscribers from China are disadvantaged because they can't use these apps to connect to NordVPN from within China. The reason that the apps do not work from China is that they are based on the OpenVPN protocol. This is bad news for Chinese subscribers because OpenVPN is generally regarded as the fastest and most secure VPN protocol in the market today.
The NordVPN website provides a special tutorial for VPN access in China via Obfsproxy. Obfsproxy is a tool developed by the Tor project to obfuscate Tor traffic, i.e., change how Tor traffic looks on the Internet. This article is however outdated. It has been reported that the Great Firewall has adapted to Obfsproxy, and the use of Obfsproxy is no longer trusted as a good defense against the Great Firewall.
I found out how to connect to the VPN from within China through an online chat with the NordVPN support. To connect to NordVPN services from China, you must manually set up an L2TP connection on your Internet device, and select the VPN server using its IP address instead of its domain name. L2TP is generally viewed as a good choice for security if OpenVPN isn't supported. Although instructions are available online, manual setup of L2TP is non-trivial.
Pricing
NordVPN offers competitive prices for its VPN services. Their most affordable plan is $ 3.49 only at 2 years. All plans come with a 30-day money-back guarantee which is among the best in the industry. You can pay for the service with a major credit card, PayPal or Bitcoin. You can win free bitcoin bonuses on this website.
Summary & Conclusion
With some major effort on your part, you can set up your Internet devices to connect to the NordVPN network. NordVPN, especially with the Double VPN feature, will keep you anonymous from the Great Firewall of China. However, you will most definitely notice the speed performance hit due to the VPN. Because the Great Firewall is actively being developed and gets more sophisticated over time, you need to keep a vigilant watch on how well your VPN service provider adapts.
Pros:
Double VPN
Competitive pricing
Cons:
OpenVPN connection from China is not supported
Lack of China setup documentation
Manual VPN client setup for China
Go to nordvpn.com