VyprVPN in China – Review
Best Use
Remote Access
Unblocking Websites
Unblocking Video Streaming
Clients
Windows, Mac OS, iOS, Android
Company Location
Switzerland
Encryption
128-/ 160-/ 256-Bit
Money Back
30 Days Money Back Guarantee
Payment Options
Credit Card, Paypal
Protocols
OpenVPN, PPTP, L2TP, IPSec, Chameleon ( special protocol for China!!)
If there is a tool that can provide you internet privacy and freedom, it's absolutely VyprVPN! Founded by GoldenFrog, this Switzerland based VPN provider promises to unblock the internet and bypass even the toughest firewalls such as "The Great Firewall" of the People's Republic of China.
VyprVPN offers multiple servers, manages its own network and delivers fast and stable VPN connections around the world. Having been around since 1994, VyprVPN is without question one of the most tried and tested VPN services that can be used to unblock the world wide web, and it does it well! They don`t save logfiles, which has been verified by Leviathan Security Group!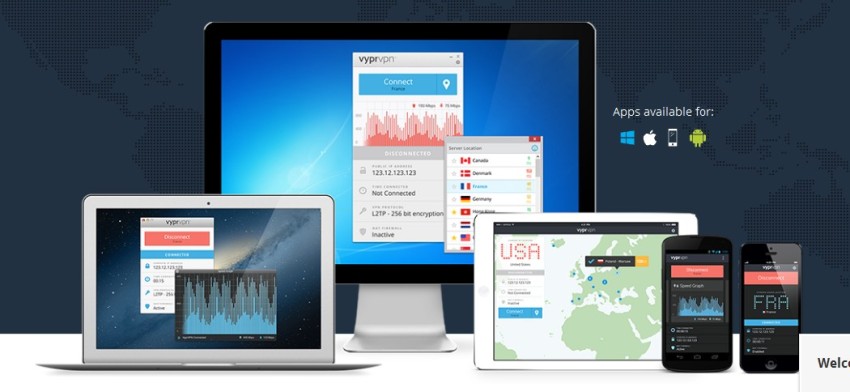 VyprVPN in China
China is known for notoriously imposing censorships and limitations in an effort to 'regulate' the internet. But what is really happening is that the Chinese government is denying its people of a free internet.
Some of the many websites that are being restricted in China includes Google+, Facebook, YouTube, Instagram and you won't believe how many more sites are blocked! Not to mention cryptocurrency or gambling sites, or combinations of both, as listed on Luckycoiner. If you want to access such sites, then your best option is to make use of a reliable VPN service that will work anywhere, especially in countries like China.
VyprVPN is one of the best VPNs for China since it can ultimately bypass the Great Firewall and allow users to surf the web freely and securely. In this review, we will summarize VyprVPN's features and how it can be effectively used by the Chinese people.
VyprVPN Compatibility and Usability in China
VyprVPN support all kinds of internet-capable devices. VyprVPN will work on a PC to the latest mobile device out there. Once you have purchased a VPN plan from VyprVPN, you can setup your device by either manually configuring it or downloading a dedicated VPN client.
The VyprVPN app is available for Windows, Mac, iOS and Android devices only. If you are running Linux on your machine, you can manually configure it by following the instructions provided here.
VyprVPN supports the most popular security protocols namely PPTP, L2TP and OpenVPN. The VPN service comes with a strong encryption system (128-256 bit) as well.
For those users in China, you can read the instructions in Mandarin by setting the language to 简体中文 . You can refer to these Chinese instructions in setting up VyprVPN.
VyprVPN Cost of Subscription
2 Years – $2.50/mo (81% Off)
1 Year – $3.75/mo (71% Off)
Monthly – $12.95/mo
VyprVPN is offering a 30 days money back guarantee for risk free subscriptions.
If you would like to get big discounts, you can opt to purchase or subscribe to the 2 years plan. At the moment, VyprVPN only accept orders that are paid with a credit card or via PayPal.
Users in China with a Visa, MasterCard or JCB credit cards can simply subscribe to a VyprVPN package using those cards. Otherwise, we'd recommend you make payments via PayPal and simply use your locally issued credit card instead to pay for your VyprVPN subscription.
VyprVPN Accessibility in China
VyprVPN has a worldwide presence round about 48 countries. There are over 700 VPN servers that are strategically spread across the globe.
In order for Chinese VyprVPN users to get the best and stable connections, we highly advise that you connect to the servers located in Asia. You can choose to connect to a server located in Hong Kong, Taiwan, Thailand, Vietnam, Indonesia, Japan, Philippines, Malaysia, Korea or Singapore.
There are of course more servers located in other major cities / countries like the US, UK, Netherlands and Australia, but if you're in China, you should connect to the nearest server in order to maximize the VPN's performance.
VyprVPN Speed and Bandwidth in China
VyprVPN claims to be the world's fastest VPN service. The company reveals that they have engineered the VPN service to have the highest level of speed and security for all VyprVPN traffics.
From our speed tests, we can say for certain that VyprVPN is blazingly fast! Bandwidth is also not being capped. VyprVPN is serious when it says it offers unlimited speed and bandwidth, it really provides an unlimited service.
VyprVPN Aftersales Support
VyprVPN offers different ways to be contacted. If you have any concern, you can send / open a ticket or contact their live support agents. In terms of reliability though, VyprVPN seems to have a somewhat average customer support system.
During our tests, the response time wasn't really as simultaneously as we expected it to be since knowing VyprVPN is a big company. We were kinda hoping that it had a great customer support. And also, the live chat agent we spoke didn't seem polite. But hey, he answered all our queries satisfactory so I guess that's good enough for now.
VyprVPN Review Conclusion: Is VyprVPN a reliable VPN in China?
In terms of overall performance, we can honestly say that you can't go wrong with VyprVPN. It does the trick of bypassing restricted contents well most especially in countries where censorships and internet restrictions are the 'norms'. Even though China has managed to block VyprVPN for some time, VyprVPN was able to re-establish its presence in the country right away.
So, is VyprVPN a reliable VPN service in China? Yes. It is reliable, fast, stable and most importantly, it's very secure.
Go to vyprvpn.com